I'm lucky to have an inspiring literary festival on my doorstep in Wymondham. For a smallish market town, it packs quite a cultural punch. Wymondham was even featured as the place to move to in the Guardian because of its heritage, friendly community and artistic events.
It's partly because we're blessed with a high percentage of excellent writers drawn to the area by its prestigious literary organisations – the UEA, NUA, Writers' Centre Norwich, and the UK's most used library at the Forum.
In Wymondham we have no less than 3 Bloodaxe poets – the outstanding George Szirtes and Moniza Alvi – and me as a new entrant delighted to bump into them at the summer carnival or the local deli.
George Szirtes was the founder of the annual literary Festival, and Moniza Alvi was co-artistic director for several years. This year, I'm delighted to be invited to read from 'The Print Museum' there.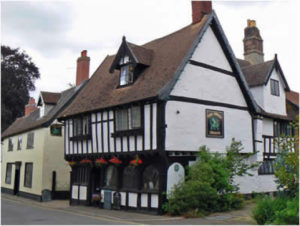 The Green Dragon pub
In true Wymondham style, the poetry reading is at the gorgeous Green Dragon pub – one of the oldest pubs in the country, a regular 'Community Pub of the Year' winner and in the Good Beer Guide every year.
Supper is included, so tickets need to be pre-booked to reserve your tasty dinner.
Kate Bingham is the main reader, and I'm really looking forward to hearing her work, described by the Telegraph as 'A pure pleasure to read', and by the Sunday Times as having 'The unusual ability to write convincingly and infectiously about happiness.'
I'm excited to hear fantastic local writer Julia Webb read at the event too. Her  debut collection 'Bird Sisters' was Highly Commended in this year's Forward Prize for Best First Collection and she's a captivating reader.
Wednesday 2nd November 19.30 The Green Dragon
Poetry Supper at The Dragon
All tickets: £7.50. Available only in advance from Kett's Books, The Book Hive and The Green Dragon. Includes a free jacket potato chilli supper (veg or meat).
Join three marvellous poets for supper and a feast of poetry at Wymondham's popular medieval pub. There will also be open mic spots available.