Students at Aberystwyth University have made a film to accompany my recent poem 'Dumyat', included in New Welsh Review's most recent Poetry Showcase.
The poem is one of several inspired by names of places that I love and that are especially evocative of my time in Scotland. Dumyat is the hill visible on Stirling University's campus. It's a rite of passage to walk it, climb it, see the sunrise from it, and career down it on black bin-bags in the snow.
Dumyat is described by Walk Highlands as: 'the rocky little cub of the Ochils, far lower than the main range but packed with character. It has a superb position on the fringe of the range overlooking Stirling and the Central Belt; the views are superb. A perfect first hill-walk on a fine day.'
It came to mean a lot to me, seeing it nestling there above campus. A place of introspective solitude at the top, and a sense of belonging created by travelling up and down with fellow walkers and students.
Here's the text of the poem:
Dumyat
Some days we cried ourselves out, packed our coats and climbed the soggy rock to its small summit.
There was something about stepping one by one, beside each other without speaking, without the need.
At the summit we kept numb vigil for what we couldn't say. We descended in mist,
our blurry outlines mottling together. On spring days now, when cold tips the hills
I can still see its cairn and trig point, that chopped obelisk at its peak, distant sheep folds, memorials of snow.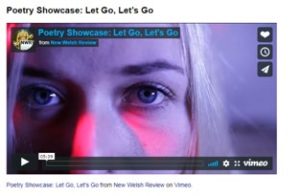 This autumn's Poetry Showcase from New Welsh Review comprises four poems on the themes of love, loss, duality and release.
It features 'Ago' and 'Dandelion Seed' by Rhiannon Lloyd-Williams, 'The First Time' by Rhys Owain Williams, and 'Dumyat' by Heidi Williamson. Click here to watch.