It's always a joy to be involved in a 26 project. They're great at coming up with inventive and intuitive ways to tap into your writing nerve. The latest project I've had the pleasure of being part of is 'Memory Maps' for the Bloomsbury Festival. We were asked to come up with a map from memory (no Googling to check facts or placings), then write a piece of exactly 150 words inspired by it. We then had to write a 'creative journey' about how we arrived at the text.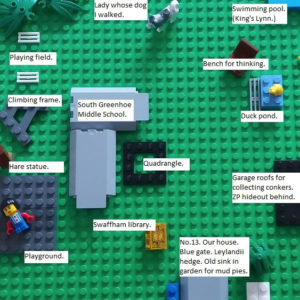 "Where are you from? It's an interesting question with many answers. And it's a question explored by members of the writers' group 26. They started by drawing a map from memory, in response to that first question. Then they wrote 150-word pieces of 'memoir' about the places shown in the map – and the people attached to those places. Extraordinary explorations of memories and places resulted, some captured in audio form."
My memory map took an interesting turn. We could make the physical map from anything we wished – sketched hastily on a notepad in pencil, painted, designed by a friend. A current occupation in our house is Lego building… so I took my cue from that. And created my recollection of South Greenhoe Middle School!
Here's my creative journey about how I arrived at my text:
In writing my latest book, hares recur. They're native to Scotland, which is central to the collection. But I've always had ornament hares.
My memory map featured a hare on top of a concrete spiral statue/climbing frame at my middle school. I don't know if it was actually a hare, or if my memory is right. It seems an emblem of fear for me, and of conquering fear.
School was a place of refuge and torment. A release from home pressures, a place for bullies and essential friendships.
I released my hare into this prose to see where it went.
And here's the sound file of my 150 word recollection:
On 18th October there's an event at Goodenough House as part of the Bloomsbury Festival, hosted by Radio 4's Alan Dein who has been collecting and broadcasting stories from around the world for the last decade. You can find full details and tickets for the event here.