On Saturday 6th Feb the staff of Whale Road Review, including me, gathered on Zoom from around the world (Nigeria, UK, US) to read poems and short prose together.
Readers included Michael Akuchie, Taylor Crawford, Allen Culpepper, Jen Stewart Fueston, Katie Hamblen,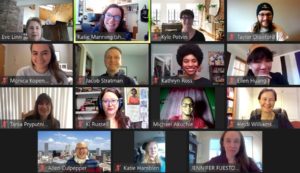 Ellen Huang, Monica Kopenhaver, Eve Linn, Katie Manning, Kyle Potvin, Tania Pryputniewicz, Kathryn H. Ross, Ki Russell, Jacob Stratman, and me.
It was a lot of fun, and wonderful to meet the poets and writers I've been working with recently to select fantastic pieces from the many hundreds of submissions we received in December.
We each read one piece and managed to keep the recorded event to just over half and hour. Then we switched off record and hung out together chatting. It was wonderful.
You can watch the video here: https://www.youtube.com/watch?v=2XjdO3jFT8Y&feature=youtu.be